The Coolest Yule at the Colonial, Featuring the Avakian Duo
Theatre Organ Society of the Delaware Valley Presents
Proof of vaccination is no longer required. Masking remains encouraged but optional.
About
The Theatre Organ Society of the Delaware Valley presents an afternoon of holiday favorites featuring the Avakian Duo.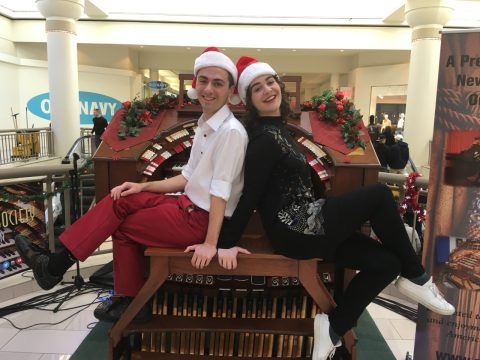 About the Organists
Claire Avakian: Claire moved to New York City in 2015 to pursue a career in the performing arts. As a childhood dancer who later found joy singing, she decided to combine her loves and pursue musical theatre. As roommates, Nathan and Claire also perform together throughout the northeast. When quarantining in Queens, they started a small business writing custom songs for people. Claire hopes to continue writing songs with Nathan as auditions in the city pick up again. They're excited to once again share some music together and continue looking out for each other!
Nathan Avakian: Nathan's fascination with the theatre organ began at age four during a visit to Portland's Organ Grinder Restaurant. At eleven, he began formal organ studies with Donna Parker and has also been frequently coached by Jonas Nordwall. Since winning the American Theatre Organ Society Young Organist Competition in 2009, Nathan has provided theatre organ entertainment across the United States and internationally. In 2011, he completed a six-week concert tour of Australia and New Zealand. He has released multiple albums featuring both theatre and classical pipe organs as well as virtual orchestrations.
Renowned for his tasteful blending of twenty-first century virtual instrument technology with theatre organ music, Nathan offers performances that satisfy contemporary musical tastes and pay tribute to the historical legacy of the theatre organ. As resident organist and composer for the International Youth Silent Film Festival, Nathan creates music that inspires young filmmakers around the world as they reinvent the art of silent film. He helped pioneer the festival's expansion which now includes regionals in Adelaide and Melbourne, Australia, Oregon, Michigan, and New Zealand. Nathan has also scored several historic silent films for Thanhouser Company Film Preservation as well as contemporary shorts by various filmmakers. He  served as the Youth Representative on the American Theatre Organ Society Board of Directors from 2011-2013 managing programs that recognize and support the work of young organ students.
Nathan also works as a freelance lighting designer and design associate based in New York City for organizations including Historic Hudson Valley, Half Moon Theatre, Princeton University, New York Stage and Film, Purchase Opera, and the Lighting Design Group. In 2014 Nathan received a B.F.A. degree in lighting design from Purchase College, State University of New York.
Tickets
Adults: $15
Children: $7
This program benefits the Theatre Organ Society of the Delaware Valley (TOSDV) Theatre Organ Restoration Fund. For additional information, email tosdvinfo@verizon.net or call (215) 780-0831.
There is plenty of parking near the Colonial Theatre and it's free on Sundays!
General admission seating. Ticket prices include a $2.00 per ticket Processing Fee.ickets are available with cash, check, or credit card at the Colonial Theatre Box Office, or online.
Membership at The Colonial
Enjoy perks and benefits while supporting the iconic Colonial Theatre.
Become a Member
Sponsor an Event
You can support the Colonial's programs and, at the same time, promote your business!
Sponsor an Event