Accessibility
Colonial Theatre staff aim to create an entertaining and positive memorable experience for every audience member. Prior to your visit, reach out to let us know how we can meet your needs.
Reporting accessibility issues
Please report issues accessing web content or features to marketing@thecolonialtheatre.com.
Help Improve Accessibility at the Colonial Theatre
Are you or someone you know interested in making a donation in support of accessible programming? Email Advancement Officer, Kristine Connolly, at kristine@thecolonialtheatre.com to get started.
Parking
ADA parking spots are identified on the Borough of Phoenixville's map below. They exist on Bridge Street, where parking is mostly 2-hour only with seasonal road closures, and in lots where payment is via credit card at kiosks and using the Passport Parking app.
During seasonal road closures (indicated on the Parking & Directions section of our website and on the Borough of Phoenixville's website), ADA parking spaces in the Mill Street lot are not available.
On Bridge Street, there are 3 ADA designated parking spaces; each is good for 3 hours. One is located in front of Avlos Greek Cuisine (258 Bridge St). The second is across the street from Iron Hill Brewery (130 Bridge St). The third is at Heartwood Park (126 Bridge St).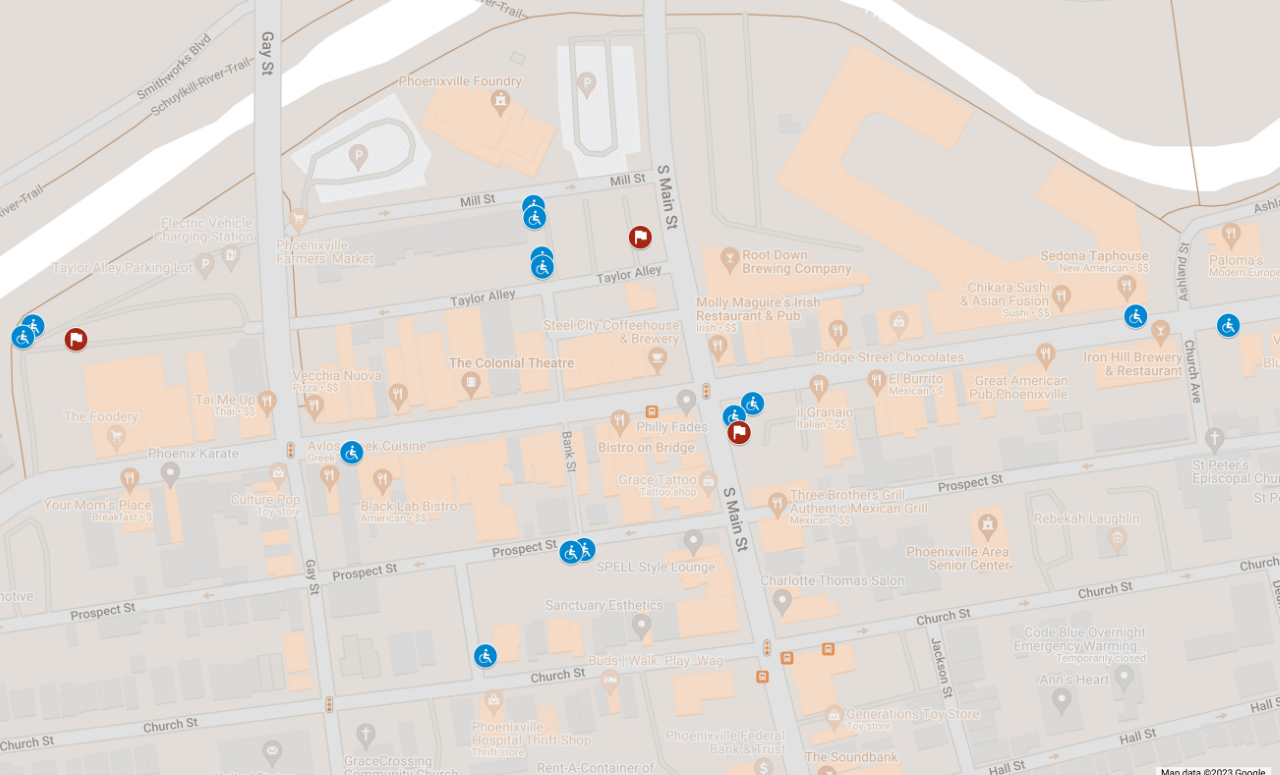 Prospect Street Lot – Metered Hours 8am – 10pm – Accessible parking spots 68 and 69. 
Mill Street Lot – Metered Hours 8am – 10pm – Accessible parking spots 71, 72, 77, and 78.
Personal Care Attendants
Paid Personal Care Attendants (PCA) accompanying patrons with disabilities enjoy free admission at all ticketed events, regardless of the ticket type. Complimentary companion tickets for paid PCA's must be requested in advance for films and concerts by calling 610-917-1228. Tickets will be available at Will-Call upon arrival. 
Especially for reserved seating events, the Colonial Theatre advises early purchasing. 
Service Animals
Patrons with service animals are welcome at the Colonial. 
MOBILITY DEVICES
The Colonial Theatre provides barrier-free access for patrons who rely on wheelchairs, walkers, canes, and other mobility devices via on-grade entrances, railing, and ADA compliant doors. Patrons may request to have mobility devices stored during performances. A staff member or volunteer will return your aid to you at the end of the performance. If you'll need assistance during intermission, please inform Colonial staff before the show begins.
Building details, restrooms & wheelchair seating
The Colonial Theatre consists of 3 theatres housed in 2 connected, historic buildings (225 and 227 Bridge Street). Both have entrances at street level. Outer/lobby doors and theatre doors are not currently mechanized. There are no turnstiles or gates that must be crossed to enter the Colonial.
Accessible restrooms are available on the 1st floors (Street Levels) of both wings. There are also accessible, private restrooms located in the Garden Suite and lower lobby of 225 Bridge Street (accessible by elevator) and 3rd floor screening room of 227 Bridge Street. The 3rd floor screening room and Garden Suite are sometimes locked but staff can assist.
The older wing of the Colonial Theatre houses the Box Office and 1903 Theatre; the "newer" wing (originally a Bank) houses the Berry and White Rabbit Theatres, as well as rental spaces, the main concession, and bar. Each 'wing' has an elevator. 
227 Bridge Street: Patrons enter the Colonial via the entrance under the marquee in this wing, where there is a slight incline. An elevator offers access to a Screening Room on the 3rd floor and Business Office on the 2nd floor. The future restoration of the original, 1903 auditorium will make its century-old balcony accessible to patrons who rely on wheelchairs and other mobility aids.
Wheelchair accessible and companion seating is available on the main floor of the 1903 Theatre (at street level). Wheelchair spaces are located at: V3, V5, V11, V13; L21, L22. Transfer seats (one arm of the seat flips up) are located at: D2, G1 and T23.
225 Bridge Street: An elevator in this wing offers access to both the Berry Theatre and lower level of the White Rabbit Theatre. (The White Rabbit spans two floors. It has a fixed balcony at street level with telescoping seating below street level.) It also provides access to a Garden Suite and rooftop terrace for rental events on the second floor. 
Wheelchair accessible and companion seating is available on the balcony (street level) and lower (elevator accessible) levels of the White Rabbit Theatre. Wheelchair accessible spaces are located at: A1, A6, A13 (lower level) and J12 and K13 (balcony level). Some events held in this theatre, such as drag shows, may have alternate seating charts specified and require reservation at tables. Individual event webpages should be checked for locations of accessible seating; call (610) 917-1228 with questions. 
In the Berry Theatre, which is located below street level and accessed using the elevator in this wing, wheelchair spaces are located at: E3, E6, E7, E12. 
Assistive Listening Devices
Assistive listening devices (Doremi) that provide audio description via headphones for patrons who are blind or visually impaired are available free of charge at the box office upon arrival. Headphones are supported in all 3 venues; there are 7 in total. Driver's licenses are requested as a security deposit. 
Audio description is recorded commentary that describes important visual details in a film that cannot be understood from the soundtrack alone. However, only some films are configured for these devices. When a film screened at the Colonial Theatre is configured for assistive listening devices, this symbol will appear on the film event webpage: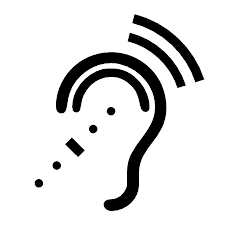 If you like, you can call ahead to see whether your movie of interest has been coded for assistive listening or check the individual film web listing for the above symbol.
Closed Captioning 
Closed captioning devices for patrons with hearing impairments are available at the Colonial Theatre via LED screens that clip to a seat, can be held by the patron during the film or fit in a seat's cup holder. There are 7 in total and these are available free of charge at the box office upon arrival. Driver's licenses are requested as a security deposit.
Some, but not all films, are delivered with closed captioning – those that are are marked with the universal icon for Closed Captioning (below) on our website.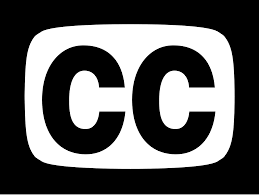 Open Captioning
Open captioning is a text display of words and sounds in a movie. Similar to subtitles in a foreign-language film, this text appears on screen, for all to see, throughout the movie. Open captioning is a service for d/Deaf and hard-of-hearing communities. The Colonial Theatre is working to offer open captioning when it is available. When open captions are available, movie webpage listing will indicate when Open Captioned screenings will occur (days and times). 
Food Allergies
The Colonial Theatre serves typical movie theatre concessions including popcorn made with corn and soy and candies containing nuts, gluten, dairy, wheat, corn, and other common allergens. Popcorn poppers are located at the main concession and bar in the 225 Bridge Street wing.
If you are a patron attending a special event with catered food or pre-packaged food provided by the Colonial Theatre or another vendor, please contact marketing@thecolonialtheatre.com in advance. Though this venue is not universally allergen-free and makes no claims regarding cross-contamination, we may be able to provide substitutions.


Sponsor an Event
You can support the Colonial's programs and, at the same time, promote your business!
Sponsor an Event