About
Joe Bob Briggs returns to the Colonial Theatre for "Cult of the Rock Star Night," a double feature of Bubba Ho-Tep (2003) and Rock 'n' Roll High School (1979).
Before and after this event, Joe Bob will sell exclusive merchandise and host a meet-and-greet with autographs for ticket holders in the Colonial's Garden Suite.
EVENT SCHEDULE*
6:00 PM – Doors Open and Meet-in-Greet in the Garden Suite
7:00 PM – Bubba Ho-Tep (Intro with Joe Bob Briggs)
9:00 PM  – Outro and Q&A with Joe Bob Briggs about Bubba Ho-Tep
9:30 PM – Rock 'n' Roll High School (Intro with Joe Bob Briggs)
11:00 PM – Outro and Q&A with Joe Bob Briggs about Rock 'n' Roll High School
11:30 PM – Meet-in-Greet with Joe Bob Briggs in the Garden Suite
*Times are relative and subject to change.
ABOUT JOE BOB BRIGGS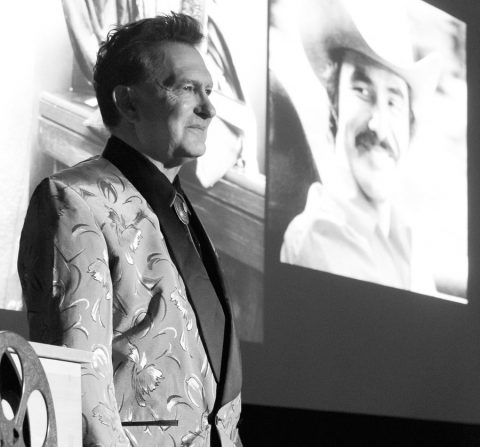 Joe Bob Briggs is a nationally syndicated "drive-in movie critic" whose wisecracking take on B-movies was featured on two long-running late-night television shows; first on The Movie Channel and then on TNT. That tradition continues with his latest series, The Last Drive-In, currently featured on AMC's Shudder streaming platform.
CULT OF THE ROCK STAR DOUBLE FEATURE
Bubba Ho-Tep
Don Coscarelli, USA, 2002, AGFA, Horror, 92 Min
"Elvis and JFK did not die, and today they're roommates in an East Texas nursing home whose residents are being killed by an ancient Egyptian Soul Sucker named Bubba Ho-Tep. I want to get that on the table at the get-go, so I can deal with the delightful wackiness of this movie, which is endearing and vulgar in about the right proportion." — Roger Ebert
After a long run with the Phantasm franchise, writer/producer/director Don Coscarelli gave the genre film world yet another long-favored midnight movie gem in the form of 2002's Bubba Ho-Tep. Starring Bruce Campbell in his other role-of-a-lifetime as Elvis Presley, Bubba piles on "foulmouthed ancient mummies, conspiracy theories and the ultimate battle between good and evil. It's also a surprisingly layered tale about growing old, regrets and redemption" (Gizmodo). Also starring the brilliant Ossie Davis (Do The Right Thing) as John F. Kennedy.
Rock 'n' Roll High School
Allan Arkush, USA, 1979, Shout! Factory, Cult, 93 Min
"Teen punkette Riff Randall (P.J. Soles of Carrie and Halloween) has one abiding fantasy: to meet the dreamy Ramones, and get them to perform one of her songs. Standing in her way is Principal Togar (Warhol star Mary Woronov), who runs Vince Lombardi High like a despot — until the boys from Forest Hills lead a student body putsch and rock the school down to its foundations. A tribute to the after-school bedroom sexual awakening, when one daydreams of Joey joining you in the shower." — Metrograph 
TICKETS
General Admission: $40.00
Colonial Members: $35.00
Ticket prices include the $5 per ticket Processing Fee for non-members. Tickets are available with cash, check credit card at the Colonial Theatre Box Office, or online. Please note that the seats in the rear balcony have limited legroom.
Information
Genre

Horror/ Comedy

Director

Don Coscarelli/ Allan Arkush

Released

2003 & 1979

Runtime

4hrs

Rated

R

Studio

AGFA/ Shout! Factory

Country

United States
Plan Your Visit
The Colonial is in the heart of Phoenixville's walkable downtown amid retailers, craft brewers, and eateries.
Plan Your Visit