By Virginia Lindak For Digital First Media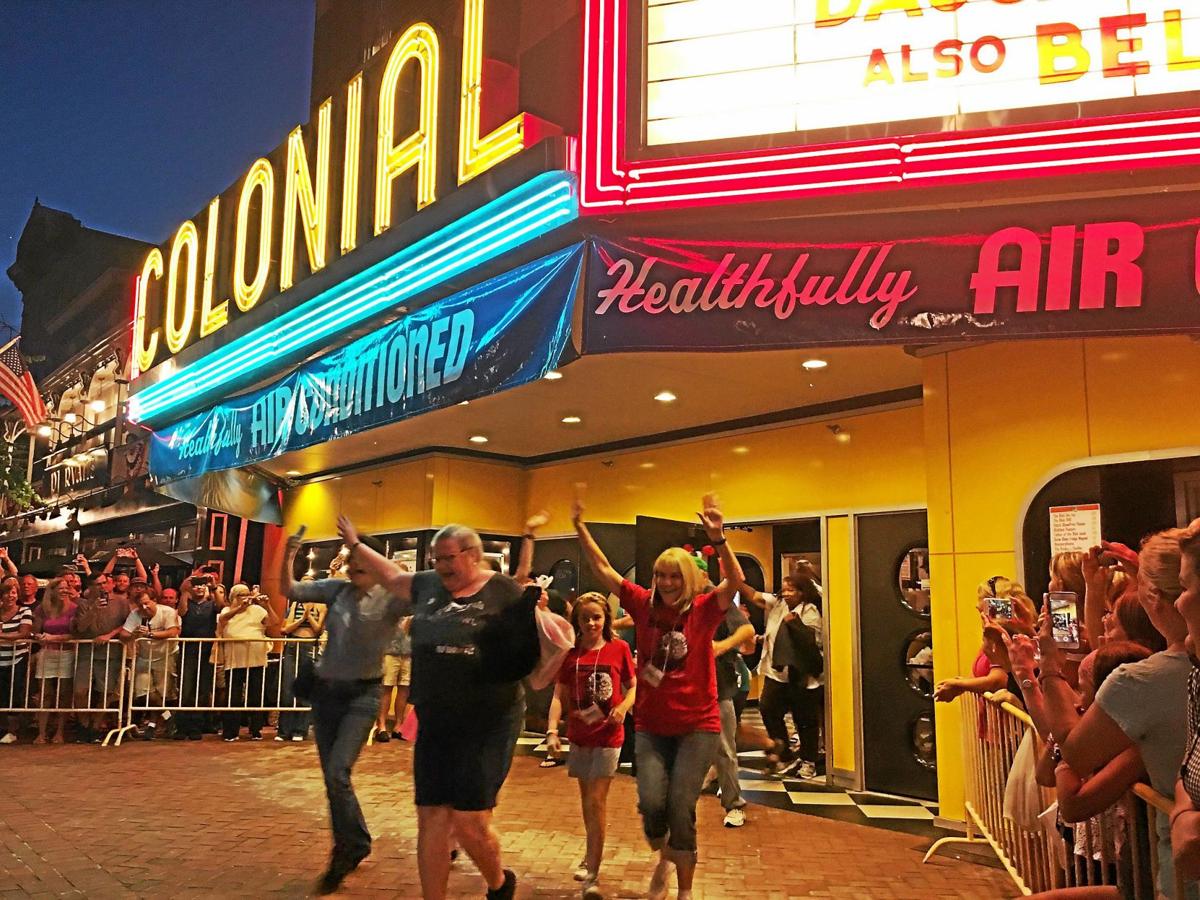 PHOENIXVILLE >> A landmark 60 years after screen icon Steve McQueen rolled into Phoenixville to save an entire town from one of the most notorious movie monsters of all time, Blobfest continues to thrill fans of the 1958 classic film, "The Blob."
Festivities and events ran all weekend long to commemorate Phoenixville's part in the oozy cult classic.
The special 60th anniversary began Friday evening at the Colonial Theatre with the crowd favorite "Run-Out" re-enactment. A crowd of thousands gathered outside the theater to watch participants re-enact the most famous scene in the movie, as patrons ran screaming out of the front doors of the theater onto Bridge Street.
"I think Blobfest continues to be a strong draw for the Phoenixville community and beyond," said Brendan Carr, Colonial Theatre's marketing director. "Primarily, it's a fun way to celebrate a cool piece of our community's cinematic history. More significantly, it's also a great way to celebrate the town's resurgence. Moving beyond our community's connection to the fest, folks from all over are drawn to it because it appeals to lot of different audiences."
Fun continued into the night at the Blob Ball held at the Polish Club and hosted by Lulu's Boutique and Gifterie. Attendees danced the night away to a live rockabilly band dressed in colorful 1950s garb like poodle skirts and saddle shoes.
"The Blob Ball is a good reason to dress up and we're bringing back the dance party. People love the retro feel of "The Blob." Everyone comes out and Blobfest is Phoenixville's weird claim to fame," said Keely Wrigley, Lulu Boutique's owner.
Filmed locally in Phoenixville and Chester Springs, "The Blob" is widely regarded as an innovative piece of Sci-Fi movie history. Two additional movies, "4D Man" and "Dinosaurus," also made by "The Blob" director Irvin "Shorty" Yeaworth at Good News Productions in Chester Springs, were screened during the weekend.
Several special guests were on hand to greet fans and to mark the 60th milestone anniversary including Ricou Browning who played the underwater monster in the original "Creature From the Black Lagoon," Kris Yeaworth, Irvin Yeaworth's son, Keith Almoney who played Danny in "The Blob," Wes Shank, the keeper of the original blob silicon prop. Matt McGinnis, writer for Netflix's "Mystery Science Theater 3000: The Return," and Marshall Terrill, author and Steve McQueen historian.
"It's amazing that 60 years later the film is still popular and receives all this attention. In Phoenixville so many people grew up knowing the film was made here and maybe their parents or grandparents ran out of theater or may have watched the film. It does have a lot of local interest," Shank said.
Shank, an avid memorabilia collector, joked he keeps the blob prop in the freezer, to keep it from growing, as in the movie.
"The basement of my house is like a mini-Planet Hollywood with props and costumes from other films and the blob is in its own little display case," he explained.
Browning, who met fans and signed autographs, noted the deepest he swam underwater filming as "Gill Man" in "Creature From the Black Lagoon" was 80-feet deep, with an average depth of around 30-feet deep. He added he did not have to learn anything for the part and used his usual style of swimming while being filmed.
"I was a good swimmer and I was on the Air Force swim team. I kind of lucked into the part. They came to Florida looking for a place to film underwater and I showed them around Wakulla Springs. A camera man asked me if I'd swim in front of the camera to show the perspective size of a human being to the fish, so I did. A week later I got a call from Jack Arnold, the director of the film who said, 'How would you like to be an underwater monster?' and I said, 'Why not?'"
During the lively street fair, people also enjoyed a fire extinguisher parade, costume contest and numerous spooky street performers. Additionally, there were dozens of vendors on hand selling unique wares. Items for sale included unusual artwork, clothing and one-of-a-kind treasures with a creepy, sci-fi twist.
"There really is something for everyone at Blobfest. Pop culture collectors love coming to the street fair to discover rare finds, new collectibles and unique handmade goods. Visitors enjoy the family-friendly atmosphere and movies that aren't so scary that children can't enjoy them. It appeals to folks who love historic places. They visit the various filming locations and cap it off with a visit to a rare place like the Colonial Theatre. You don't need to be a die-hard fan of the film to come and have a good time. It's for anyone who wants to have fun," Carr remarked.