By David Colton, CHFB News
ARLINGTON, VA. – Despite a crippling pandemic, shuttered theatres and canceled film productions, voters turned out in record numbers for this year's (Gasp!) 19th Annual Rondo Hatton Classic Horror Awards, honoring the best genre achievements from 2020.Among top winners of the fan-based Rondo Awards, a global online ballot honoring the best in classic horror, science fiction and fantasy, were the modern remake of THE INVISIBLE MAN (voted Best Film), THE MANDALORIAN (picked for a second year as Best Television Show),  George Pal's 1953 epic, WAR OF THE WORLDS (Best Blu-Ray and restoration), and Vanessa Harryhausen's detailed overview of her father's work, RAY HARRYHAUSEN: TITAN OF CINEMA (Book of the Year).
Interest in classic works of the fantastic despite the grim realities of the past year was evident in the record turnout: More than 6,000 fans and pros voted online, a 27% increase from last year's vote and the largest survey of classic horror fans and pros in history.
The Rondo Awards, named after Rondo Hatton, an obscure B-movie villain of the 1940s, honor the best in classic horror research, creativity and film preservation. This year's e-mail vote was conducted by the Classic Horror Film Board, a 26-year old online community.
In individual categories, UCLA film archivest Scott MacQueen was named Monster Kid of the Year (Rondo's highest honor), for his tireless work restoring the early Technicolor chiller, MYSTERY OF THE WAX MUSEUM.  Horror and cultural critic Kelly Robinson was voted Best Writer, Mark Spears was voted Best Artist, and LITTLE SHOPPE OF HORRORS editor Dick Klemensen was recognized for his decades of research into Hammer films.
Other winners ranged from director Sam Irvin for his three-hour commentary on the restoration of FRANKENSTEIN: THE TRUE STORY, to a book collecting  paintings that preceded Rod Serling's NIGHT GALLERY.
Monster Kid Hall of Fame inductees included several fandom pioneers — Stacie Ponder, whose early blog, Final Girl, helped shatter barriers in horror appreciation; Derek M. Koch, whose Monster Kid podcast was among the first devoted to classic horror; the late writer and former Monster Times editor Joe Kane, aka as the Phantom of the Movies; the late author Michael Robert 'Bobb' Cotter, and Chicago TV legend Rich Koz, who as horror host Svengoolie has won 10 Rondos over the years.
Below you'll find all the winners, along with runners-up and honorable mentions. Many categories were very competitive, and numerous nominees not listed here nonetheless drew significant votes.
Below is a photo of Hatton in the 1946 film, HOUSE OF HORRORS, which was an inspiration for the distinctive bust given to winners.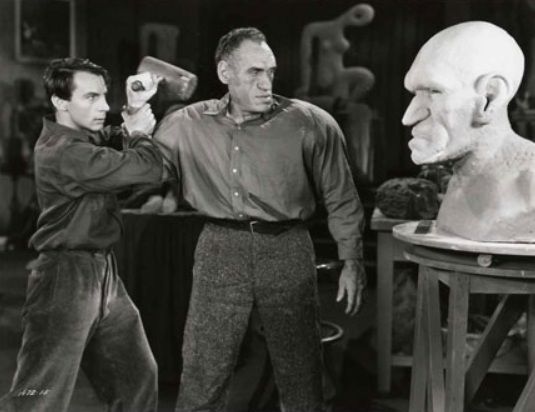 HERE ARE THE WINNERS IN THE
(GASP!) 19th ANNUAL


RONDO HATTON CLASSIC HORROR AWARDS
BEST VIRTUAL EVENT
VIRTUAL BLOBFEST, streamed from Phoenixville, Pa. where The Blob was filmed. Pictured is marketing director Bob Trate

Runners-up: Global online celebration of Harryhausen Centennial; Virtual panels from Atlanta's Monsterama
Honorable mentions: New soundtrack, title cards for Cabinet of Caligari streamed by Transylvania Tonight's Countess Carita; Online seminars from Miskatonic Institute of Horror Studies