Photo ID, AND proof of full vaccination OR negative PCR test result taken within 72 hours of the event required for entrance. Masks encouraged but optional.
Want more vintage Sci-Fi/Horror? Blobfest returns live and in person this year July 8-10! 2022 Blobfest: The Uninvited tickets go on sale Thurs, May 26, 2022 for Colonial Theatre Members and VIP ticketholders from the two prior years, and Fri, May 27, 2022 for the general public. Festival includes multiple Sci-Fi/Horror double features.
Sign up to receive Blobfest and other program updates by email here.
About
"In much the same manner as The Wizard of Oz and It's a Wonderful Life, this masterpiece long ago entered into the national consciousness as an enduring part of our heritage." – Film Frenzy
FILM SYNOPSIS
Actress Ann Darrow (Fay Wray) and director Carl Denham (Robert Armstrong) travel to the Indian Ocean to do location shoots for Denham's new jungle picture. Along the way, the actress meets and falls for rugged First Mate John Driscoll (Bruce Cabot). Upon arriving at a mysterious island, Ann is taken hostage by natives who prepare her as a sacrifice to the enormous ape Kong who rules over their jungle. But when Ann is rescued and Kong is captured, the real trouble begins.
Sponsors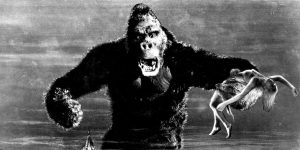 Information
Genre

Adventure

Director

Merian C. Cooper

Released

1933

Runtime

1h 40m

Rated

Passed

Studio

Warner Bros.

Country

United States
Our venue's safety protocols and COVID-19 policies are updated as compliance requirements and CDC and other recommendations change.
Plan Your Visit