About
An alternative to the "big game" where three horror films rule the day! In keeping with Horror Bowl's thematic tradition (the first was John Carpenter's Apocalypse Trilogy) this year's mini-marathon honors Stephen King by featuring three of our favorite films based on his work. "Half Time" features a collection of film trailers featuring additional works based on King's filmography.
FILMS (In running order for the day)

Creepshow 
George A. Romero, United States,  1982, 2h, R, 35mm
A compendium of five short but terrifying tales contained within a single full-length feature, this film conjures scares from traditional bogeymen and portents of doom. In one story, a monster escapes from its holding cell. Another focuses on a husband (Leslie Nielsen) with a creative way of getting back at his cheating wife. Other stories concern a rural man (Stephen King) and a visitor from outer space, and a homeowner (E.G. Marshall) with huge bug problems and a boozing corpse.
Christine 
John Carpenter, United States, 1983, 1h 50min, R, DCP
Unpopular nerd Arnie Cunningham (Keith Gordon) buys a 1958 Plymouth Fury, which he names Christine. Arnie develops an unhealthy obsession with the car, to the alarm of his jock friend, Dennis Guilder (John Stockwell). After bully Buddy Repperton (William Ostrander) defaces Christine, the auto restores itself to perfect condition and begins killing off Buddy and his friends. Determined to stop the deaths, Dennis and Arnie's girlfriend, Leigh Cabot (Alexandra Paul), decide to destroy Christine. This screening is in celebration of the film's 40th anniversary.
The Shining
Stanley Kubrick, United States, 1980, 2h 26min, R, DCP
Jack Torrance (Jack Nicholson) becomes winter caretaker at the isolated Overlook Hotel in Colorado, hoping to cure his writer's block. He settles in along with his wife, Wendy (Shelley Duvall), and his son, Danny (Danny Lloyd), who is plagued by psychic premonitions. As Jack's writing goes nowhere and Danny's visions become more disturbing, Jack discovers the hotel's dark secrets and begins to unravel into a homicidal maniac hell-bent on terrorizing his family.
SCHEDULE
*
1:00 Doors Open
1:30 Introduction of the day's events
1:40 Creepshow on 35mm
3:40 Creepshow Ends/10-Minute Intermission
3:50 Christine – 40th-Anniversary Screening on DCP
5:50 Christine Ends/ Half Time
Half-Time Show: Stephen King Movie Trailer Tribute (30 Minutes)
6:20 The Shining on DCP
9:00 The Shining ends
*Times are approximate 
EVENT MERCHANDISE
Our special event poster for Horror Bowl 3 Kings is by Sons of Thunder Studios.  This poster and Colonial Theatre merchandise items will be available in the lobby, before, after, and during the screening. Size: 11X17. Price: $10.00.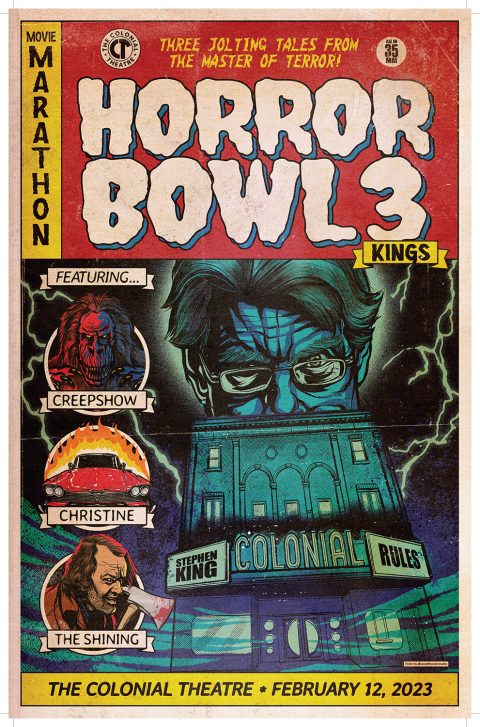 Sponsors
Information
Genre

Horror

Director

George A. Romero, John Carpenter, Stanley Kubrick

Released

1982, 1983, 1980

Runtime

7hr

Rated

R

Studio

Warner Bros., Park Cirus, Sony

Country

United States
Places to Visit
The Colonial is in the heart of Phoenixville's walkable downtown amid retailers, craft brewers, and eateries.
Choose A Restaurant