About
The Italian Horror Film Festival returns to the Colonial Theatre for an all-nighter featuring five favorites resurrected from Splatterfest's past!
The 2023 selection is filled with insanely strange, gory Italian horror cinema. Delight in the macabre madness.
Children under 17 must be accompanied by a Parent or Guardian. Tickets are non-refundable. Ticket prices include the Processing Fee. This fee will be added at check out. Tickets are available with cash, check, or credit card at the Colonial Theatre Box Office, or online. No member or guest passes are accepted for this event.
Food Tickets
The food option ticket is now closed. If you ordered a  boxed lunch, it will be available at the new concession stand at the first (20-minute) intermission, after 'Conquest.'
Regular Tickets
Adult: $25 with $5 fee
Member: $25
Food + Film Ticket
---
Running Order For the Night*
The films below are listed in the evening's running order but the timing is subject to change:
6:45 p.m – 7:00 p.m  – Introductions/ Trailers
7:00 p.m. – 8:25 p.m. – Conquest  (35mm)
20 min break: Food orders available at the new concession stand (10 min of trailers/ 10 min drive-in count down)
8:45 p.m. – 10:10 p.m. – Opera (35mm)
10 min break: Free Raffle Prizes Distributed
10:20 p.m. – 12:05 a.m.– Death Laid an Egg (DCP)
10 min break (trailers will play)
12:15 a.m. – 1:45 a.m.– Manhattan Baby (DCP)
10 min break (trailers will play)
1:55 a.m. – 3:35 a.m. -Nothing Underneath (DCP)
* Times are approximate
---
Conquest
Opera
Death Laid an Egg
Manhattan Baby
Nothing Underneath
---
The Official Event Merchandise: 
Our Splatterfest XI merch will be in collaboration with Quiltface Studio. A limited number of t-shirts, lobby cards (a new item), and other items will be available at the event.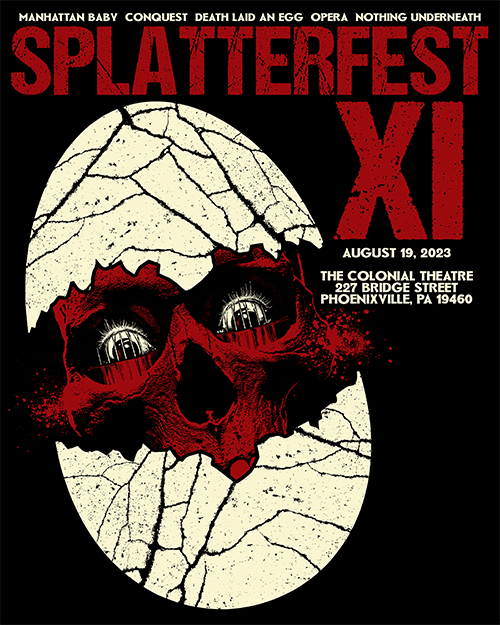 Free Raffle Prizes
A monster thanks to Blue Underground for the comics, movies, hat, and t-shirts (not pictured) that will be a part of our free raffle at Splatterfest XI. 'Manhattan Baby,' a Blue Underground title, is our fourth film of the night!
Sponsors
Information
Genre

Horror

Director

Varios

Released

Varios

Runtime

7hr 30min

Rated

R

Studio

Varios

Country

Italy/ United States
Plan Your Visit
The Colonial is in the heart of Phoenixville's walkable downtown amid retailers, craft brewers, and eateries.
Plan Your Visit